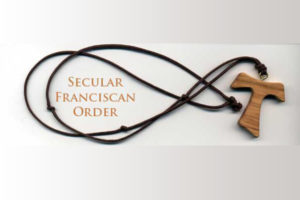 Who are the Secular Franciscans?
The Secular Franciscan Order (OFS) is a branch of the worldwide Franciscan Family. We are single and married. We work, worship and pray actively in the community where we live.
The OFS is a secular movement, established by St Francis of Assisi more than 800 years ago.
Our purpose is to bring the gospel of life where we live and where we work. We look for practical ways to embrace the gospel in our lives and try to help others to do likewise.
In today's world we are plagued by time schedules, projects and activities that leave us tense and stressed. The OFS becomes our place of refuge and renewal where our brothers and sisters in Francis support and inspire us.
You, too, can become a life-time member of our family.
Is the OFS for you?
If you have a Franciscan vocation, then you probably have a desire to do something more.
Perhaps you feel a need for support in growing spiritually. Or, deep down, you sense a need to serve God in a special way. Or, for years, you have felt an affinity with St Francis. He seems to pop up all around and you just don't know why. Perhaps, God is calling you!
Come along to one of our meetings and experience Fraternity life for yourself.
We meet every second Sunday at Holy Cross Church.
For further information please contact Lloyd de Mello OFS Minister on 021 106 0934 anytime.