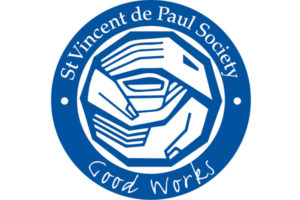 The founder St Vincent de Paul society badge Frederic Ozanam, under the patronage of St Vincent de Paul inspires the work of the members of this Society.  It is directed towards the needy in the Henderson area, both Catholic and non-Catholic.  This takes the form of food parcel collection/distribution.
The Society runs a small food bank where the collection and distribution of used furniture, white ware and cutlery, sponsorship of overseas Parishes in Sri Lanka (two), Kerala, India and St. James Catholic Church, Kadoma-Zimbabwe.
They also support disaster relief appeals initiated by the National Council in Wellington.
All this Christian work is able to happen largely through the very generous support from collections at the end of all Masses on the third Sunday of each month.  This support has continued for many years and the generous donations are a continuous delight.
The Society tries to make sure that the money is used to the best advantage of those in need.  Food parcels delivery over the last five years have averaged out at 450 annually from which an average of 1500 people benefited.  Over 200 pieces of furniture were collected and distributed as well as numerous pots, pans, cutlery, china, kitchenware and bed linen. We have also done numerous hospital visitations and house-calls.
The Holy Cross Conference meets at 29 View Road, Henderson meeting room every Monday at 7.30 pm to 8.30 pm.
For furniture pick ups please ring Marion Sutcliffe on (09) 832 3108.
New members are always sought so if you would like to help the team, or if you have any queries please contact the following:
President:  Bernard Maney on (09) 820 2304
Secretary: Maria Faleusu on (09) 832 3012.